Co-constructed and research backed: How 50 Things responds to some of Local Authorities' key concerns about Early Years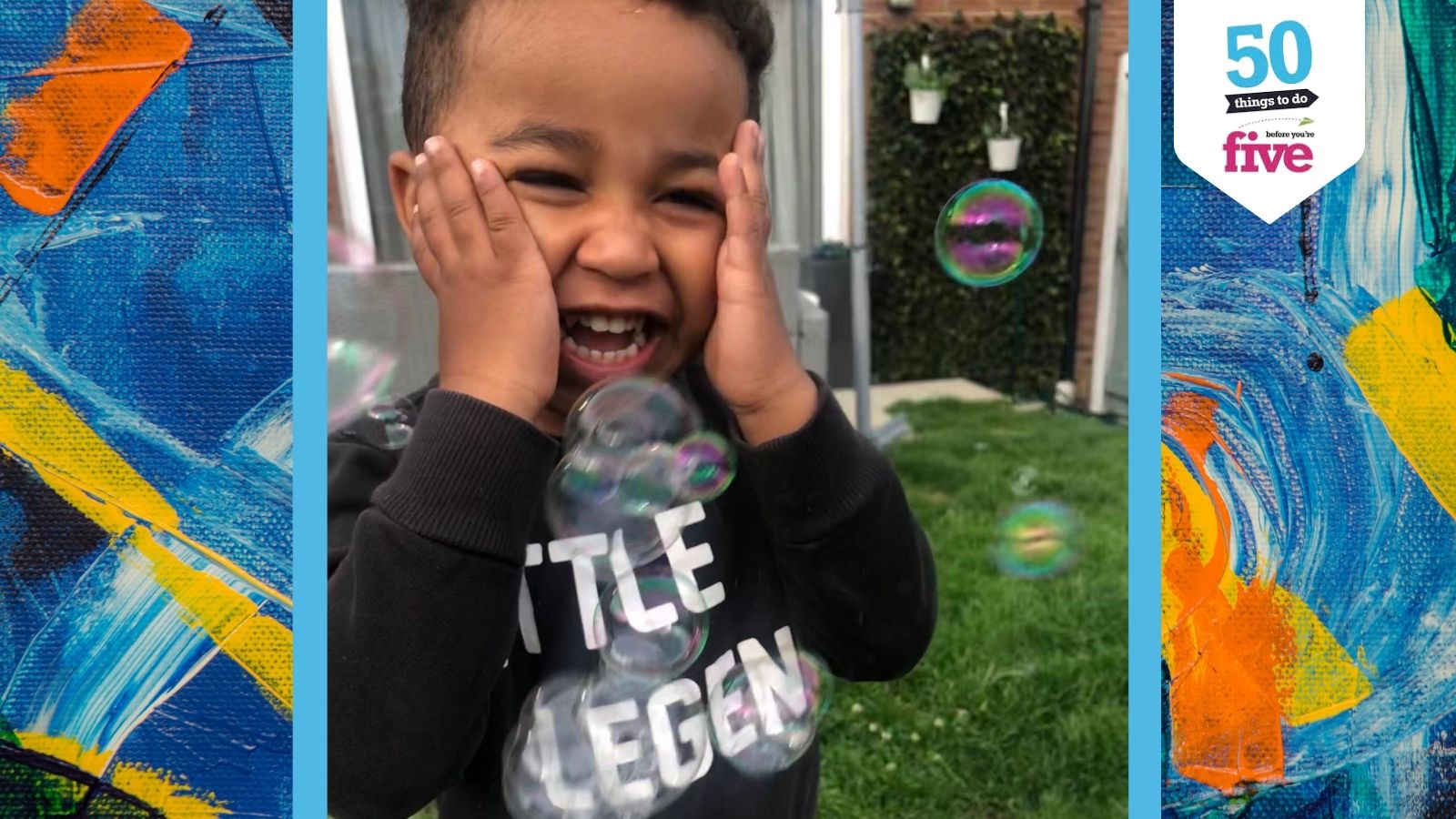 With quotes from our webinar speakers, Director Christian Bunting and Andrea Richardson (formerly Leeds City Council), we share a few ways the core tenets of 50 Things bring help to families.
50 Things To Do Before You're Five was established to respond to specific problems which those who work with children are seeing. With help from Director Christian Bunting and Andrea Richardson, formerly of Leeds City Council, we'll dive into two of the major strengths of the initiative: our ability to reach and engage with a vast and diverse range of families, and our direct educational focus.
Democratising parental assistance
30% of children in the UK are living in poverty. For parents in this situation, paid subscriptions and expensive toys aren't always an option. 50 Things is helping to reach more families in three important ways; we're free-to-access, our activities are low- or no-cost, and we are co-constructed with the help of our community.
The importance of low-cost ways for families to maximise opportunities for their children to learn, grow, be healthy and have fun, cannot be underestimated. The 50 Things To Before You're Five project explores free and cheap ways for parents to spend time with their children.
Furthermore, parents will access 50 Things for free, ensuring it is available to everyone. Local Authorities can target districts of high socio-economic disadvantage, to ensure that the parents who need inspiration most are aware of this tool and are able to access it.
50 Things activities have been designed with knowledge and understanding of the different barriers families are facing, by educators who have years of experience working alongside families experiencing socio-economic disadvantage.
40 of the 50 activities have no associated cost at all, and almost all of the activities are adaptable to both inside and outside the house, so if children don't have a safe bit of green space to play nearby, they're still able to have fun and learn inside. The initiative assumes nothing about who might be utilising it - only focusing on the fact that children can be inspired to reach important milestones without having to spend money.
Co-construction
The activities in the 50 Things app were produced with the help of families around Bradford, where 50 Things was born. They were able to give feedback as to what really worked for them, and continue to inform and shape the process into the product as it exists today. This was a key selling point for Leeds City Council.
"We were most impressed that it was clearly co-produced with families by the community" says Andrea, explaining why 50 Things was taken on in Leeds. To hear more about how we're engaging with all families, be sure to attend our webinar, where both Christian and Andrea will speak about this subject.
Education starts at birth
School readiness means children reach the age of 4 with the social and emotional skills to be ready for school-based learning. As many Early Years professionals know, but some parents aren't always aware of, learning doesn't just begin when a child starts school. In fact, children who succeed most start their journey in those essential early years. Research shows that parents and carers who continuously support their children's early language, communication and literacy developments show significant attainment in their primary and secondary phases.
"50 Things is showing some impressive results in terms of school readiness", states Christian Bunting. This is because 50 Things has been designed specifically to promote and support early language and communication development. It meets the Department of Education's (DfE) preschool literacy priorities. The fact that the initiative was born in a nursery school, from the minds of early years experts and practitioners, means that the 50 activities contain opportunities for young children to practise their language and communication skills with their parents or carers.
Ideas from experts
This too, has been a key reason Local Authorities have been so impressed with the offer.
Andrea Richardson describes the minds behind it as "really high class early educators - people who really understood young children, families, and how children learned."
For example, No. 39 Talking Signs highlights the importance of gestures and signing to help babies and other pre-verbal children communicate.
Additionally to early language, self-regulation is a core motivation behind the 50 Things approach. The ability to manage your emotions and behavior in accordance with the demands of the situation is extremely important in children's social and emotional development and has been linked with early learning such as pre-reading skills, early mathematics and problem solving. 50 Things has been designed to secure relationships and interactions between parents and child, which at the same promote resilience.
To hear more about how we're helping children get ready for school, make sure you're signed up for our webinar.
We're growing all the time!
Because of our awareness of the concerns of Local Authorities, 50 Things has been embraced nationally.
"50 Things has grown over the past two and a half years from outstanding practice at St. Edmunds Nursery School in central Bradford, and it's grown - and grown, and grown to be an initiative that's been launched and has been rolled out by 12 local authorities nationwide, with 10% of England's under-5 population inside the 50 things initiative (330,000 children)." - Christian Bunting
We hope to see as many Local Authorities as possible represented at our webinar, so our work can benefit even more children.